Our Products
Have you tried to breed feeder insects and thought it was too much effort, time and messy?
This is the number one reason most people prefer to buy their own feeder insects instead of breeding them. Perhaps you are one of them?
At Wildlife Hub, we also started out this way…continually spraying, feeding, watering, tackling diseases, moving crickets between multiple containers, cleaning, managing escapees and odors.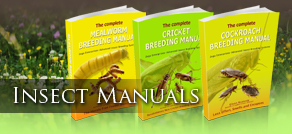 Who has the time or patience for this using conventional insect breeding methods?
Most people quickly realize conventional methods are better suited to large scale production, not feeding one or two bearded dragons.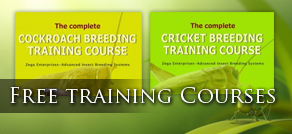 At Wildlife Hub we knew we would need to develop new and more efficient methods if we were going to continue with our research, wildlife rescue and reptile keeping. After 11 years of private and commercial feeder insect production, we have completely overhauled every aspect of breeding insects.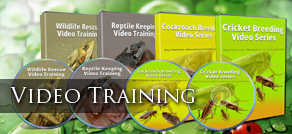 We are very proud of the fact that you can now breed feeder insects with less time and effort than standing in line at the pet store. Did you know you can turn your scrap vegetables into over $1400 worth of feeder insects each year.
It is now possible for you to breed feeder insects with much less effort with:
Automated food and water dispensers
Detritus collection systems
Efficient container design
Streamlined cleaning systems
Even crickets which are notoriously hard to breed over the long term, can now be bred with the same effort as cockroaches or mealworms.
Low maintenance feeder insect breeding is now available for everyone.
It is convenient and good for your animals AND
It will save you thousands of dollars.
After spending thousands of hours of trial and error, we felt important to document our methods so others would not have to re-inventing the wheel. This is how the world's smartest and most comprehensive feeder insect books and video series was born. For your convenience, our books are available electronically (instant download) or as paperback books
It is our aim to have every person become an independent breeder in feeder insects.
Our free training courses; books and videos will guide you at every step. We understand that you may reach a road block, so we also provide complementary email support and Skype training. We hope your animals enjoy their juicy, fresh, healthy live foods.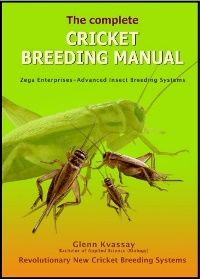 Breeding Crickets Guide
Crickets used to be the hardest species of insect to breed with 98% of people giving up after a few months due to a laborious maintenance schedule.
Now they are one of the easiest with an unique detritus collection system not only collects waste for you, it also; eliminates odors; prevents contamination of eggs; increased production and makes cleaning very quick and easy.
This is just one innovation, there are many more. Read More… You can also click here to Buy Now…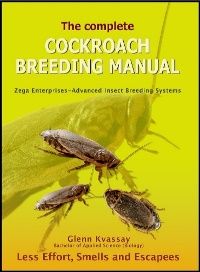 Breeding Cockroaches Guide
Cockroaches breed so well…so it's a real shame they can me so messy and smelly to manage. You have probably been there…constant, feeding, cleaning and spraying. Then you have to content with the odors and escapees. Fortunately there are many things you can do to prevent these problems.
Read More… You can also click here to Buy Now…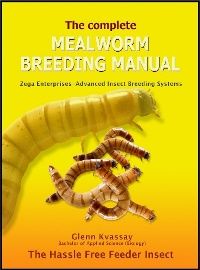 Breeding Mealworms Guide
Mealworms are stable food source for many reptile and wildlife enthusiasts. Understanding their misunderstood lifecycle, along with learning streamlined cleaning methods will greatly improve your breeding success.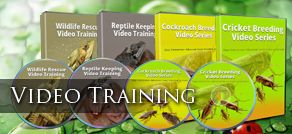 Feeder Insect Video Training
Videos of techniques from "The Complete Cricket Breeding Manual". They show you how to build the components and how they work. They are commonly used in conjunction with the manual which covers all methods in full detail. Other videos for cockroaches are in development. Read More…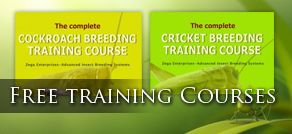 Free Feeder Insect Training Courses
Our 9 lesson Cricket and Cockroach Training Courses gets you started with successful Insect Breeding. It includes lots of information on; how to build a cricket/cockroach system, biology, container design, feeding, gut loading, heating, pest management and lots more. Read More…